St. John the Evangelist is happy to have Parishioners and local Non-Profit Organizations host their events in one of our beautiful spaces. Please complete the Event Request form below to begin the process.
View our event spaces below or arrange a visit to come see them in person.
The full room holds 100 people, and half the room holds 50.
This beautiful room in the Pulte Family Life Center is perfect for a smaller gathering, meeting, or reception. It overlooks our Pulte Patio and Bocce courts. The room can be set with round tables and chairs (please note that the chairs in the pictures are rented and not the ones normally in the room), with long tables, or with audience seating. There are two projectors with screens in the space, along with a podium and microphone.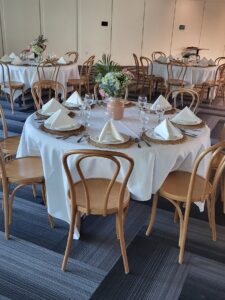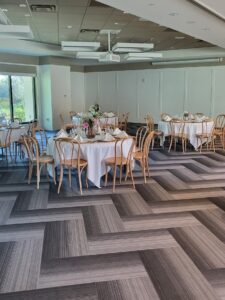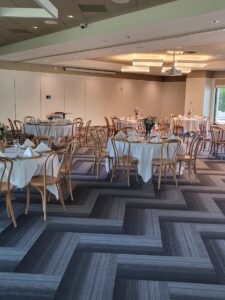 This room holds up to 50 people.
The Rome room can be set with round tables for a small reception, with long tables for a meeting, or with only chairs for a lecture. There is a projector and screen as well as a podium with a microphone. Private bathrooms are located inside the space.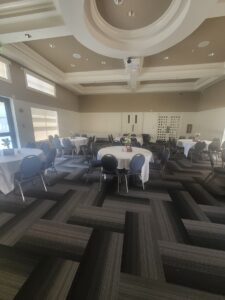 Our largest event space holds up to 320 people at round dinner tables, or up to 500 in audience seating.
The Ballroom is a beautiful space for a wedding reception, dinner dance, or birthday party. The attached caterer's kitchen is ideal for all your food needs. There is a stage, dance floor, 4 projectors and screens, a podium and microphone, and even a disco ball! The room can be divided in half upon request.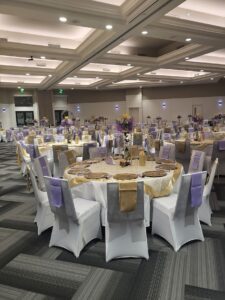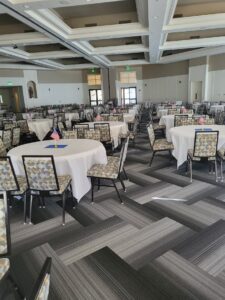 Our Pulte Patio is home to our Bocce courts and is also a beautiful space for an outdoor party, cocktail hour, reception, or gathering. It has a gorgeous view of our back pond and our St. Mary garden. There is space for a DJ or band, making it an ideal Winter event space.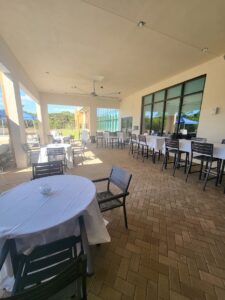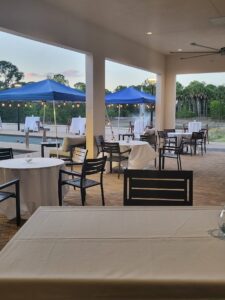 Our Pulte Cafe is home to our Parish breakfast, Karaoke, Happy Hours, and Trivia. It also is available, upon request, for events and small gatherings. Please note that events held in this space are not fully private, as our gymnasium and workout rooms are adjacent to the space.